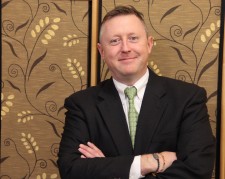 Kansas City, Missouri, January 23, 2017 (Newswire.com) - ​The Law Office of Will M. Helixon, a Kansas City based firm, is pleased to announce that Theodore "Ted" C. Houdek has joined the firm as a Senior Litigation Associate where he will bring 18 years of legal experience to the firm. A former U.S. Army Judge Advocate, Ted joins a team of former judge advocates in a broad practice including military defense, court-martial defense, criminal defense and securities law.
With a family and juvenile litigation background, Ted will lead the Personal Affairs Section of the Law Office of Will M. Helixon which handles family law, adoption, child custody, child and adult guardianships and matters related to domestic violence and child abuse. A mix of military, state and private practice experience, Ted brings an ability to work with government agencies of all sizes to the firm. While a judge advocate, he served as both a prosecutor, defense counsel, senior defense counsel and appellate counsel.
"In addition to heading the Personal Affairs Section, Ted will be active in court-martial defense, military law and our military appellate practice. The Law Office of Will M. Helixon is fortunate to have Ted join the team, and looks forward to his contributions to the practice," said Will M. Helixon, the firm's founder.
"I am very excited to have Ted join the practice. He is a talented litigator with experience in all practice areas of the firm," said Jon M. Stanfield, Partner and Director of Business Affairs.
The Law Office of Will M. Helixon was established last year in Kansas City to defend members of the military in courts-martial, adverse administrative proceedings and other criminal proceedings. It now handles military matters, family law, business and securities law, and personal affairs.
Source: Law Office of Will M. Helixon
Share: